During the first week of Fall, I was on staycation. The word staycation has been uttered in every corner of the Earth in these challenging times. A staycation is merely a vacation where you stay in your home town. Ah vacation. We lived for them when we were kids! Remember family vacations? You and your family would pile into the car, get on a plane, or a boat and you would see things you had never seen before. You argued with your siblings, you rolled your eyes when your parents asked you to stand still for a picture, you marveled at the sights in a place that was nowhere you had been before.
As adults we LIVE for vacation! (I am speaking for myself, but I think you agree with me.) We work hard, we earn time off from our jobs, and we use our time away from work to relax, or adventure, or maybe do a little of both. I have nostalgia for those times before the pandemic when I explored different cities and countries on vacation. For the last 10 years, I have gone on a trip in September to Europe, Great Britain, the USA or Canada. Before the pandemic began, I was planning where I would go in September 2020. (insert record needle scratch) Plans were paused, and so during the first week of Fall, I was on staycation.
I decided to make the best of it and be a tourist in my own city: New York City. It has EVERYTHING! Broadway theatre, museums, monuments, statues, food, shopping, and soooo much more. It's a destination that millions of people have visited. When you live some place that is a tourist destination, you tend to avoid doing'touristy' things. During my week off, I explored 4 out of the 5 boroughs of NYC. I took trains, buses, subways and used the power of my own two feet (a New Yorkers default mode of transportation).
My favorite day of staycation was my 'historical' day. I wanted to visit a few places around Wall Street. Little did I know that the day would lead me on a trip back in time. My original plan was to find Fraunces Tavern (which I did!), stop by the Charging Bull (did that) and find the Defiant Girl statue in front of the New York Stock Exchange (yep. did that too). What happened after that was just…magical.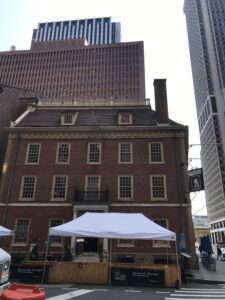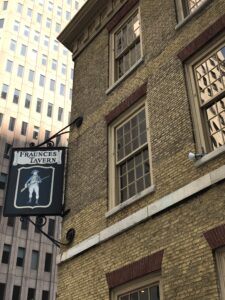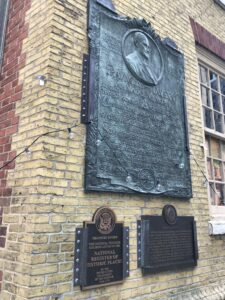 Fraunces Tavern has a storied history before, during and after the Revolutionary War. It was built in 1719 and they claim that it is the oldest surviving building from those times in Manhattan. According to their website, George Washington hosted his farewell dinner for his officers of the Continental Army there in 1783. There are plaques on the outside of the building denoting the historical designation from the New York City and its distinction of being on the Nation Register of Historical Places. It's a charming brick building and it amazes me that the it survives and is still in use today.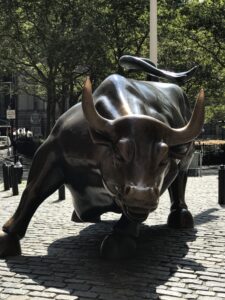 The Charging Bull statue. The streets are usually bustling with people running lunchtime errands and hundreds of tourists taking in the sights. One of the most jarring sights that I encountered all day was the sheer openness of the area. With fewer people hustling and bustling, it felt empty. I could walk right up to the Charging Bull statue and take a photo (see above) with not a single person climbing on it. I was glad I could get a good photograph, but I honestly missed the hustling and bustling.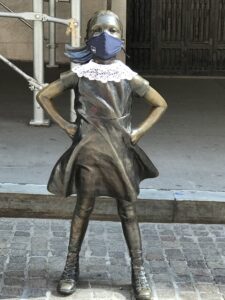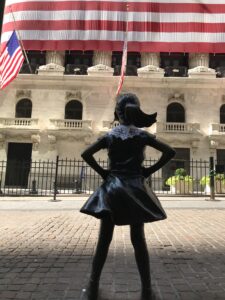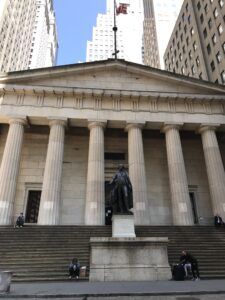 NYSE and the Defiant Girl Statue Again, I was struck by the emptiness on the streets. The statue of the Defiant Girl was relocated from standing in front of the Charging Bull to standing in front of the NYSE. Someone had put a mask on her during the pandemic and a lace collar adorned her neck. (A recent addition as an homage to Ruth Bader Gisburg who had died less than a week before) The United States of America has gone through a lot of turmoil and a lot of of progress has been made. More of both are on the horizon, and standing in the cobblestone streets in front of Federal Hall where George Washington was sworn in as President, I felt some hope that the turmoil will settle and our country will be stronger.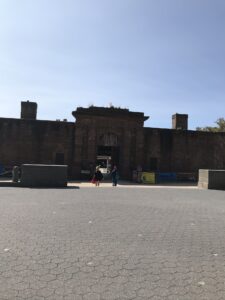 So, I accomplished my "historical" mission. Or so I thought. Here's where the magic comes in. Since I was already downtown, I walked over to Battery Park. There is a fort in the park called Castle Clinton, named for Dewitt Clinton (former mayor and governor of NY). It was built in the early 1800's as a defense against the British troops that had been waging battles along the East Coast. These days, the inner part of Castle Clinton is home to the ticket booth for the Statue of Liberty/Ellis Island boat.
It was like the booth was drawing me to it. I have such vivid memories of my brother and I going to visit the Statue and Ellis Island with my grandparents in the summers. We would be soooo excited to get on a BOAT! Back in THOSE days, they let you climb the stairs inside the statue whenever you wanted. (I was a kid, so you may have needed a ticket, but for the purpose of this post, I'm saying we didn't need a ticket. Please comment below if you know otherwise!)  So, back to the booth drawing me to it…It just so happened that a boat was leaving in half an hour. What did I do? Yep. Ticket in hand, I went through the security tent (such different times) and boarded the boat to the Statue of Liberty and Ellis Island.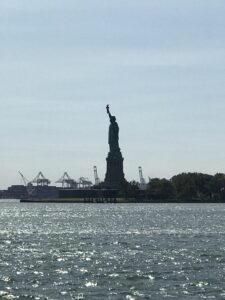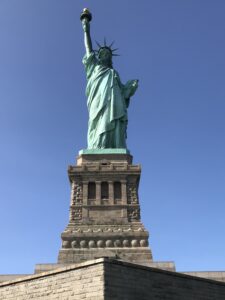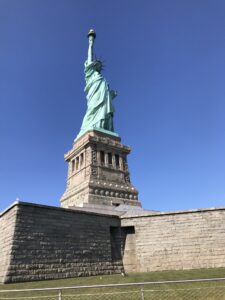 The Lady in the Harbor is impressive from the surrounding shores and from the deck of the Staten Island Ferry. When you are standing at the base of her pedestal, she is awe-inspiring. I imagined how immigrants felt as the ships that they arrived on sailed past her. She represented freedom from the lives that they left behind and gave them hope for a better future in a new country. On that first day of fall,  the people that were visiting were locals from NY and NJ. As I walked around, I heard a lot of languages being spoken. It was a great reminder that New York City is the heart of the melting pot that is the United States of America.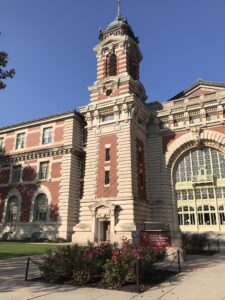 Ellis Island.  It's reachable by ferry from Liberty Island. It was a short ride, dropping us off in front of the Main Immigration Building. Today it is the entrance to the museum but in the late 1800's and early 1900's, it was the first place that an arriving immigrant would have set foot in the USA.
As I explored the building, memories of my childhood visits there came rushing back. Back in the day, they had tours of the building that were led by US Park Rangers. They would guide you through the building, telling stories of some of the millions of people who passed through those doors and onto their newly adopted home shores. I pictured the people huddled together for hours on end as they awaited their turn to be inspected. Some of them would be clear to go and start their futures in the United States. Some were detained for health or other reasons.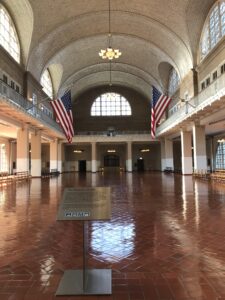 As I said, I visited Ellis Island many times when I was growing up. My trip during staycation was the most unique. There are individual audio guides that you can use as you walk around the building, but I chose to explore on my own. I had such a clear memory of the Grand Hall, so I found the staircase and climbed with excitement. As I reached the top of the stairs, the Grand Hall came into full view. I was the only person standing in this place that once had every inch filled with those immigrants. Knowing what the experience was for the millions of people who passed through this hall, I did not take my privilege to roam around the building freely for granted. It was a truly awesome experience. One that I will remember for a very long time.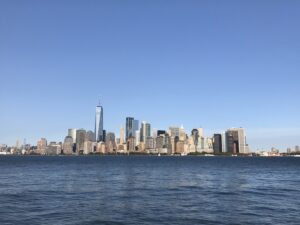 After a while, it was time to board the boat back to Manhattan. As the boat pulled away from Ellis Island, I felt grateful that I got to be on staycation. I got to see the places that fill the history books, the places that people plan their visits around. I got to relive some special memories from childhood. Staycation in NYC was a gift. There is much to see in the world…you never know what lies outside your very own front door.
I'm passionate about trip planning and connecting with new friends from all over the world. Let's share a day off together and explore!  Learn More